I had a mythical moment today while reading the Pennysaver ads. There was an advert for a grey and white winged kitten. Now I've seen winged ginger tabbies, but grey and white?!?!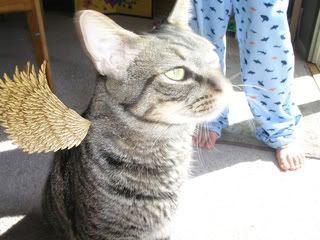 Kidding.
We thought it must be a typo or perhaps that was a particular pattern type. I did a search and found that some cats do indeed have "wings" either from matted hair or a skin condition that causes extra flaps of skin to grow. There was
one case
where the owner claimed the wing growth was due to stress because too many females were hot to mate with him.
Okay...
You know, that could start a new trend- men wearing prosthetic wings under their muscle shirts claiming to be stressed by too many female admirers. They'll be photoshopping wings onto their MySpace pics.